Fused Silica Crucible Liners
Using proprietary manufacturing processes, ICP has developed crucible liners that are both unique and cost effective. ICP Fusil XL crucible liners have the advantage of minimizing reoxidation inclusions caused by expansion of oxygen during rapid temperature increases while maintaining excellent thermal shock resistance. Available in many sizes. Typical sizes below (others available).
Crucible Liners
Size
Height
I.D.
O.D.
CL1
CL2
CL3
11.5"
12"
13"
5.0"
5.4"
6.5"
5.4"
6.1"
7.25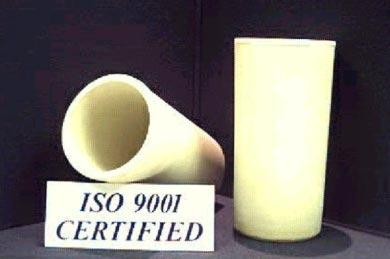 Shapes manufactured from Fused Silica have Zero Thermal Expansion! The excellent thermal shock characteristics of this material make it an excellent choice for areas where refractory failure may be due to repeated thermal cycling or exposure to rapid temperature changes.
To place your order:
Phone (800) 427-2278
Fax(937)644-2646
Email: sales@industrialceramic.com

Visit the ICP booth at CastExpo '13!
April 6 - 9, 2013 - Stop by and see the ICP team at booth 767 at CastExpo '13 at the America's Center in St. Louis, MO. For more info, check out the AFS website...

Exciting things are happening at ICP!!!
Click here for more details...

2012 ICP Christmas Party
On December 13th, 2012, Industrial Ceramic Products, Inc. held its annual Christmas Party. Special thanks to Second Story and our own R.C. Oberst for providing the entertainment! Click here for photos...
Click here to read the press release!
Contact ICP

14401 Suntra Way
Marysville, OH 43040
toll free: (800) 427-2278
outside U.S. (937) 642-3897
fax: (937) 644-2646
sales@industrialceramic.com